Hide Bra Straps (Pack of 3)
Convert your bra straps with different styles!!
Bra strap drama got you in a pinch? Have no fear. Racerback clips are here instantly transform your regular bras to match the style of tops and dresses. Simply attach the clip to the middle of your bra straps. Ta-da strap-free shoulders and an instant breast lift. Never let a pesky strap hold you back again. NO MORE SEE THROUGH.
The innovatively designed bra clip which is a perfect solution for falling bra straps. Conceal your straps from being visible in T-shirts, Tank Tops, a Dress, Workout wear, swimming suit and so much more! Boost your cleavage for a firmer younger look. Transform any normal lingerie, Bralette, large or small bra into a cross back style without riding up your back because of the adjusters. Durable and flexible makes these a bra accessory needed for your bra converter collection. Easily clasp to your current straps. Revives old stretched out bras into a genie or bra strap holder.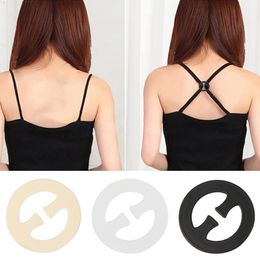 FEATURES
Bra strap drama got you in a pinch? Have no fear. Racer back clips are here instantly transform your regular bras to match the style of tops and dresses. Simply attach the clip to the middle of your bra straps. Ta-da strap-free shoulders and an instant breast lift. Never let a pesky strap hold you back again. NO MORE SEE THROUGH.

Won't show through fabrics, Flexible material and unique shape makes it easy-to-use, So thin and comfortable you won't even know you're wearing it. Easy To Use Thin & Comfortable .

Adjustable Bra Strap Clips Cleavage Control Breast Boost Item Perfect Bra Strap Solution

Three fully detachable reusable bra clips. Will transform any normal bra into a cross back style bra. Hides unslightly bra straps. Innovative idea for fashion needs.

Easy To Convert Your Bra Straps In Cross Back Style. The Bra Clip Keep Those Pesky Straps Hidden & Prevent Them From Slipping . It Adds Instant Lift To Your Breast And Gives Push-Up Looks
Pack of 3
SPECIFICATIONS
Intimates Accessories Type: 

Bra Extenders

or

Material:

Silicone

Gender:

Women